The challenge of cross-selling to your customers
As many of us already know, it can cost 5 to 25 times more to gain a new customer than to keep an existing one. And yet, many brands spend lots of resources and money to attract new audiences while often missing the opportunity to cross-sell and increase customer retention, which would generate even more value across their company portfolio.
For example, companies like Apple offer both reliable hardware and accessories, as well as a more recent successful streaming service for their devices. Google quickly became the dominant search engine (and a verb too, while we're at it) but over its 20+ year history, it also evolved into an ad revenue platform, streaming service, device manufacturer and much more. A look at the large conglomerates on the Fortune 500 list shows that this trend extends beyond the tech world.
Many companies that would one day love to join the ranks of these superstars, fail to create similar collections of different, complementary offerings that are designed to work together seamlessly.
Typical barriers include:
Organizations that are built around brands, not customers
Incentives that aren't taking into account cross-company performance
Siloed data and CRM systems (singular brand vs. entire company)
Adjusting your POV from brands to systems
Here's an exercise: Rather than separating all of your products and services and considering them one by one, try thinking of them as a comprehensive company system that engages with the market, one where…
Profit = N x (LTV – CAC)
N = the number of customers
CAC = the cost of customer acquisition
LTV = the lifetime value of a customer
Your objective should be to increase N at the lowest CAC and maximize LTV.
But how?
By offering different entry points for different uses (targets or moments)
By generating logical opportunities to engage with the customer beyond their given entry point
By creating experience journeys to cross-sell your products and services to them
By making sure the customer understands the value of remaining in your system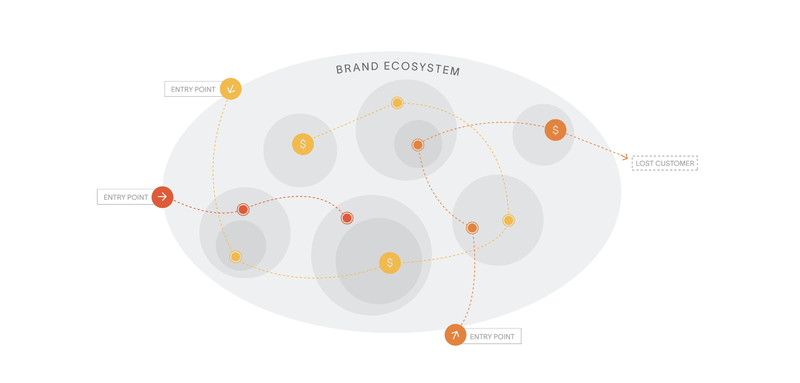 Don't lose sight of other fundamentals
Once you've embraced this outlook, create overarching structures and initiatives to keep your company ecosystem in tip-top shape.
Governance
Engage with cross-brand marketing to align objectives and leverage existing knowledge about the market, customer and activities. Also, enlist information management teams so data can be consolidated from multiple sources and brands to track the different customer journeys.
Experimentation
Lean into testing to guide your path forward. Establish experimentation processes and tools to ideate strategies, generate hypotheses and fast prototypes in the market to evaluate success before scaling within the organization.
Performance Audit
Create a dashboard that monitors the system's overall performance as well as the performance from each of the different journeys, tracking results on the system key metrics. It can look something like this:
Putting the process in place
Start by mapping your existing brand, service or offering portfolio, along with your different customer uses and journeys. This will help find gaps and opportunities for brand and portfolio expansion as well as lay a canvas for the different cross-brand opportunities and products' customer journeys.
Then, define the different customer journeys — both existing and future — from entry point to exit. For the existing journeys, add some figures like how many customers are we acquiring per entry point, cross-selling rate, conversion rate and average tickets and lifetime value.
Following the profit formula above, remember that your best opportunities will come from:
Acquisition: Increase N and/or reduce CAC
Nurturing and retention: Increase engagement and cross-selling, reduce the attrition rate
Monetization: Increase spending and LTV
With that in mind, you'll also want to:
Brainstorm new journeys and strategies for the priority goals and create a prioritized backlog for testing each of them
Organize your experimentation into sprints and set up a tracking system and dashboard
Build prototypes for each sprint and test in the real market, tracking impact in key metrics and gathering new customer and market insights to enrich the backlog.
At the end of each sprint, decide to scale the successful strategies or kill/iterate on the unsuccessful ones, plus update the backlog with new learnings to plan the next sprint.
Repeat!
(Here at NOBA, we thrive on this approach!)
Quick wins and long-term gains
When you can successfully manage your portfolio as an ecosystem, your company will be able to increase the average ticket of each acquired customer — which immediately increases your return over the acquisition spent. As a result, your revenues will grow with more efficient spending to cross-sell rather than gain new customers from scratch, as well as increase retention and loyalty.
In the medium and long term, you might also want to shift your focus to getting new customers into the ecosystem in the first place — growing your market footprint — with overall revenues at a higher profitability per customer. However, this systems-based approach can already contribute to various other areas of your organization:
Gain and share customer insights across brands and products to identify new opportunities
Break apart potential company silos on marketing and data teams
Better align the company with overarching brand goals and strategies
Foster a continuous innovation and growth priority based on data-driven decisions
Build new mindsets, capabilities and tools for business prototyping and experimentation, accepting failing fast as part of the innovation journey
Find out more about innovation and business prototyping at our blog or by subscribing to our newsletter.
For support in designing and managing your company ecosystem, get in touch with our team for a consultation at accelerate@nobaventures.com.