Crafting a Hot Sauce Range through Iterative Consumer Engagement
With a global perspective in mind, NOBA joined forces with a global sauce developer to establish meaningful connections with diverse markets and delve into their unique sensory expectations. Through collaborative working methods, our team has engaged with hot sauce enthusiasts from various corners of the world, embarking on a journey of co-creation. This iterative approach allows us to swiftly integrate valuable feedback, crafting hot sauces that cater to the distinct preferences and demands of consumers worldwide.
Exploring New Horizons
Before developing the actual recipe, we wanted to find out which concept would resonate best with our global consumers. So we defined and prepared two different value propositions: 'Host Food' and 'Chillies of the World,' each offering a unique approach to the world of hot sauces.
To measure which of these value propositions did better in the market, an online campaign using the False Door technique was prepared. The campaign, hosted on Meta, reached 7.5 million spice enthusiasts from Turkey, UK, Australia, Mexico, Brazil, and Saudi Arabia.
If users wanted to learn more about our value proposition, they could visit our website and click on the 'discover more' CTA. This would redirect them to our survey where participants were given the opportunity to create an early adopter profile and better understand the preferences and aspirations of the hot sauce-loving community.
At the end of this phase, the value proposition 'Chillies of the World', focused on the provenance of chili peppers and their connection to sauces from different regions and countries, resulted as being the most appealing.
This outcome reflects the collective interest and enthusiasm of participants from diverse backgrounds, who found the concept of connecting sauces with their chili pepper origins particularly compelling.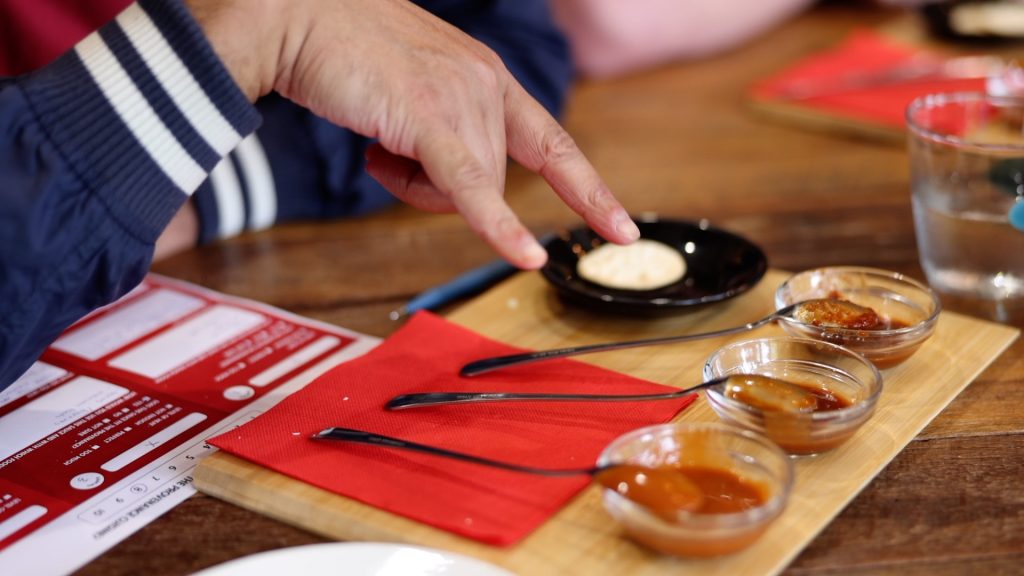 Crafted globally – Inspired locally
After making the decision to proceed with the Chillies of The World concept, the team of chefs and culinary experts embarked on the task of defining the ideal sensory experience for our range of hot sauces. To accomplish this, we conducted exploratory sessions where we tested various recipes with real consumers.
Early adopters who had already shown interest in the offering by signing up during our online campaign, were invited to participate in co-creation sessions.
With this approach we ensured that the feedback was coming from real users, people that were genuinely invested in our product and that will most likely be our first buyers, avoiding potential biases that could arise from using artificial incentives.
The co-creation sessions were held in 3 cities, Istanbul, Sydney and São Paulo with over 60 participants divided into groups and given the opportunity to try out nine different recipes and packaging options. These sessions included direct interaction with a local culinary chef, enabling us to swiftly pivot and iterate the recipes according to real-time feedback.
Thanks to the insights gained from the co-creation sessions, the design principles for each hot sauce were defined. This ensured that the final recipes perfectly aligned with the preferences and needs of all three countries involved in the project.
Home usage feedback
After developing the range of sauces recipes, we sought to gather insights from the actual usage of these sauces in natural settings.
Samples of the sauces were shipped directly to the doorsteps of early adopters. As an incentive, participants were offered the opportunity to receive more of their preferred sauces in exchange for sharing consumption photos and providing feedback on the sauces.
The experiment took place in Germany, the Netherlands, and Turkey. Throughout the experiment, our local community manager maintained regular communication with the participants via chat, allowing us to learn quickly about their preferences, occasions of consumption, and frequency of use.
This valuable information helps us understand whether users are inclined to continue using the sauces over time, in which situations they are preferred to use, and provides essential insights to complete the business case and gain a clearer understanding of sauce repetition dynamics.
Crafting Hot Sauce Through Consumer Engagement: A Spicy Global Journey
Our approach to developing a remarkable hot sauce range breaks free from conventional methods. Instead of relying solely on the expertise of our R&D team, we turned to the true authorities – our customers – to guide us in creating an exceptional product.
We listened intently to our target audience, valuing their feedback and preferences above all. By engaging with individuals who genuinely expressed interest in our offering, we ensured an unbiased perspective that truly represented our customer base.
But we didn't stop there. We recognized the importance of incorporating local feedback to create a hot sauce range with global appeal.
Drawing inspiration from diverse culinary traditions, we carefully blended regional flavors to deliver a universally satisfying experience.
The result is a hot sauce collection that showcases the power of collaboration, authenticity, and a relentless commitment to culinary perfection.