In 2022, Bricoteca approached NOBA to flesh out the digital arm of their crafting workshop centers. With 3 physical locations in Barcelona, 1 in Sabadell and 1 in London, Bricoteca aims to empower and inspire DIYers and crafters both in-person and online with content resources and meaningful ways to connect with others — all in hopes of becoming the largest community of its kind in the EU.
Nailing the launch
In the first phase of the project, NOBA conducted a Sonar test aimed at DIY enthusiasts across Europe. We invited them to join a Telegram channel named "Bricoteca Community," which featured four subgroups: carpentry, home improvement, furniture restoration and crafting. Once these early adopters signed up, we sent them new content from Bricoteca Online Hub every 2-3 days, such as masterclasses with influencers, DIY challenges and links to forums for group chats.
Our focus was not on producing perfect content but rather on keeping the groups engaged.
To our surprise, we discovered that the members of the groups preferred asynchronous content that they could watch on their own time, rather than attending live classes. Some also wanted to connect with experts for support and advice, while even more folks wanted to participate in surveys and leave suggestions.
Interestingly, the most active members of the groups were men aged 45+ which differed from Bricoteca's typical audience of women in a similar age range. Even more unexpectedly, some of the real people in these Telegram groups continued to stay engaged for up to 6 months after our testing was done.
Hammering out the details
In a new Sonar test, we aimed to learn how Bricoteca could provide a competitive advantage for these audiences. For this new phase, we prompted users to register for an online platform with Bricoteca where we could gauge their interest in two potential content offerings:
Projects: Selected from a collection that included such as kids' crafts, multi-purpose wood constructions and paper projects, and included a manual and supplies kit, plus access to professional support.
Programs: Ongoing weekly learning resources related to a specific aspect of building and crafting, in this case home staging or repairs/remodeling.
While users could access the project manuals and first week of the programs, the kits nor the rest of the weekly program resources were actually available from Bricoteca; they were simply "smoke tests" that allowed users to register for notifications when they became available.
Our ad campaigns highlighted the different features of each offering, including manuals, materials, community aspects and specific crafting ideas, to determine which aspects were the most popular. We discovered that while the manuals for the projects generated a lot of interest, the kits did not. On the programs' side, there was general interest in the initiative, but users lost interest once they learned more about it. This indicated that the specific programs chosen may not have been the most ideal.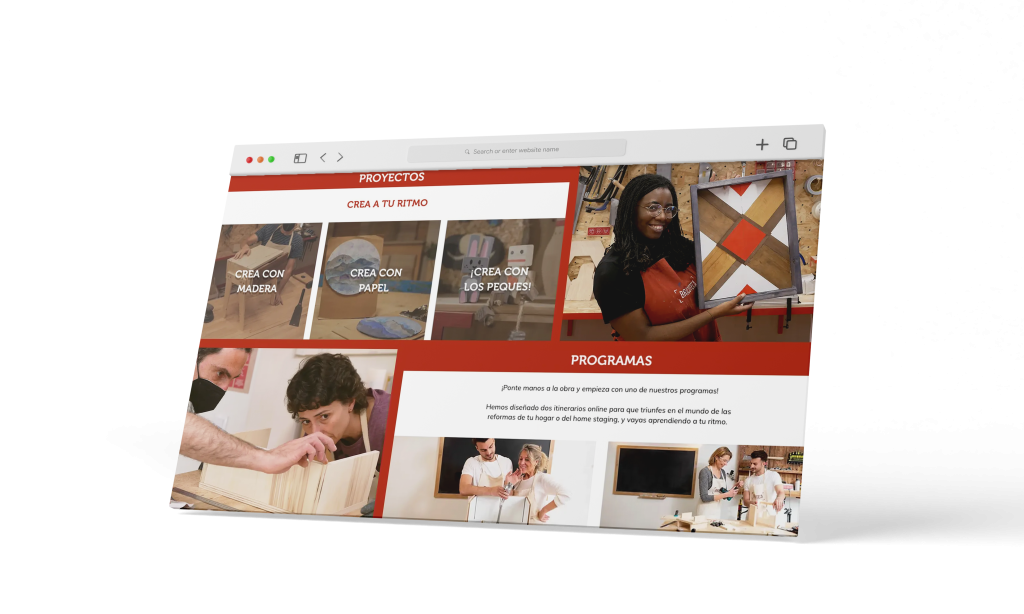 The sharpest tools in the shed
Thanks to our testing phases, not only we were able to validate the business case for an online Bricoteca community that feeds into their in-person locations but we could also show that these initiatives to acquire new customers were effective and thriving — and could be done at a tenth of the price of other marketing initiatives.
What's more, the engagement among the new customers in Bricoteca's online platform surpassed even our expectations.
In short, with our trusty Business Prototyping tools, NOBA helped build a lively Bricoteca community of real people and real bonds — and potential offerings that could be real in a not-so-distant future — all while keeping costs down.